Two statements reported in a television news story about the investigation into Belgrade High School principal Paul Lamb have raised the hackles of journalists across the Gallatin Valley.
A report on KBZK on the evening of Oct. 6 by reporter Brooke Boone told readers that police in Belgrade have completed their investigation into allegation of misconduct against Lamb and that they will request that charges are filed against him.
Lamb allegedly patted down several female students in private while searching for missing money.
Boone reports:
Police have completed their investigation into allegations of misconduct by Belgrade High School Principal Paul Lamb and say they will ask the Gallatin County Attorney to pursue criminal charges.

Detective Dustin Lensing said a request for prosecution should be in the hands of County Attorney Marty Lambert by the end of this week.
Some supporters of Lamb did not agree with the report and, believing it to be false, contacted Michael Tucker, the editor of the Belgrade News, which is also owned by the Chronicle's parent company, Big Sky Publishing.
Tucker, who also believed Boone had it wrong, published a piece labeled as "commentary" to the Belgrade News site on the afternoon of Oct. 7. In it, Tucker writes:
The police have yet to finish their report. It is still being written. The news report is false. No one has asked the county attorney to pursue charges.

It's a difficult thing to say since we're in the news business, too, but just because someone says the sky is green doesn't make it true.
Tucker cites no sources in his commentary.
From there, things got a little bit complicated.
Emails and Tweets
Boone, apparently having read the Belgrade News commentary, took to Twitter on the defensive on the night of Oct. 7 and on the morning after.
Now being told there was a "miscommunication." Apparently the police report was never concluded. #belgrade #notwhatiwastoldyesterday

— Brooke Boone (@Brooke_Boone) October 8, 2014
Police Chief Clark told @kbzk tonight the final report will go to the County Attorney. Like I reported yesterday

— Brooke Boone (@Brooke_Boone) October 8, 2014
Belgrade Police Chief clarifies investigation. meanwhile, like I first reported- CA will decided if charges warranted http://t.co/tyci2PT31R

— Brooke Boone (@Brooke_Boone) October 8, 2014
There was also a tweet Boone apparently deleted in which she directly jabs at Tucker's commentary.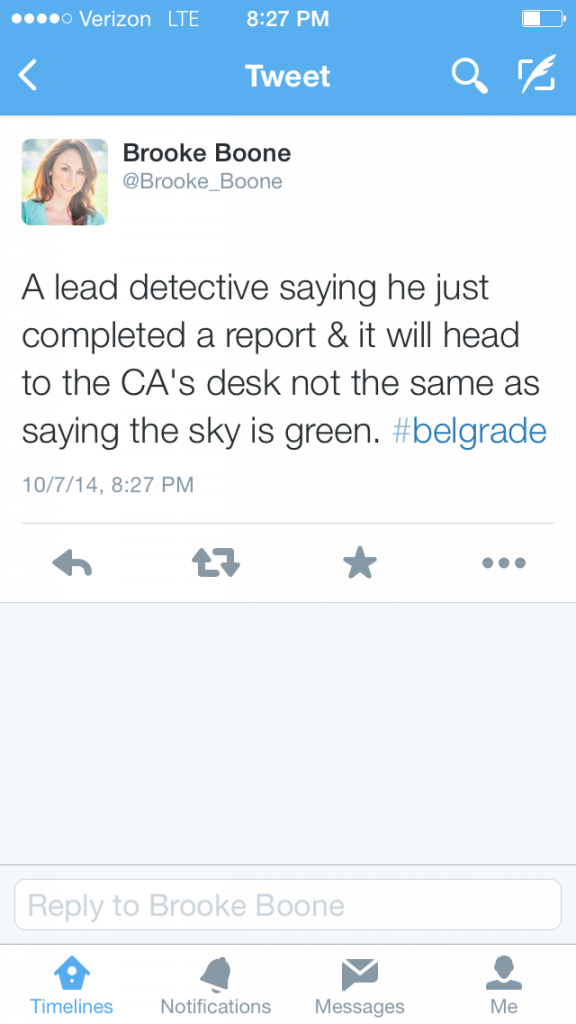 Just before 5 p.m. that day, KBZK news director John Sherer wrote to Michael Tucker. In an email forwarded to the Chronicle, Sherer calls Tucker's commentary "false" and says it should be "corrected in your publication immediately."
Sherer also writes that Tucker should have called the station before writing about the incident because the Belgrade News editor would have learned new facts from KBZK. "That would be good journalism practice before going to publication," he wrote.
Tucker responded that no correction would be coming.
Clarification
A few hours later, at about 8:45 p.m., KBZK published a clarification written by Sherer himself.
In the clarification Sherer writes that the final investigation report into Lamb is not complete, only Det. Dustin Lensing's portion of it, according to Belgrade police Chief E.J. Clark.
Whereas Boone's original report clearly says police "say they will ask the Gallatin County Attorney to pursue criminal charges," Clark told KBZK in its clarification that the chief wanted a prosecutor to look over the findings to decide if charges are warranted.
So what went wrong?
The conflict here is over two facts reported in Boone's original story and then addressed in the station's clarification:
that that the Belgrade police investigation is complete
that the Belgrade police will ask that charges be filed against Lamb
As I see it, the first is the result of a misunderstanding. Lensing likely said just what Boone reported, but perhaps Lensing didn't have the whole picture or Boone didn't see the whole picture.
The second statement is the result of an assumption. Clark explains in the clarification that the paperwork is referred to as a "request for prosecution," even though he said the department intends to seek a prosecutor's opinion on whether charges should be filed.
In her opening paragraph, Boone translated the submission of "request or prosecution" paperwork into "they will ask the Gallatin County Attorney to pursue criminal charges."
If you're looking at the words themselves. It's a reasonable translation, but it's a translation that also implies something more: that the police believe Lamb did something wrong and charges should be filed against him. Moreover, it implies that police believe so strongly that Lamb did something wrong that they'd speak that fact to a reporter to be presented on the news, even before charges are filed in court.
The wording says something about the guilt or innocence of Paul Lamb, when in fact police are making no such implications. They are only investigating.
Conclusion
At this point, I see this as a matter of hurt pride on all sides. Reporters have famously thick skin, but being accused of getting the facts wrong can get under that skin quickly, as Boone and Sherer showed with their defensive tones.
And when you accuse someone else of having the facts wrong, you should have the appropriate sources on the record. If Tucker had that, he didn't put it in his commentary.
Also, when a story development seems really good, a reporter should stop, consider, and re-verify it with the source, asking it again to make dead certain it's right.
We should always remember that people's reputations can be at stake in these articles.