A couple days ago, a man named Panson De Oaks wrote to us on Facebook, linking to a video from the TV station WGN in Chicago. The video was a segment on vacation destinations — mostly high-end, expensive ones. Included was a vacation destination in Montana, Paws Up, a "glamping" destination in the Missoula area. When the guest on the video announces the destination is Montana, one of the anchors sort of goes "Ugh."
It's clearly a city-folk reaction to activities such as camping, rock climbing and horseback riding, but De Oaks felt that it was a frontal assault on Montana's reputation. A screenshot of his initial post on the BDC page is below.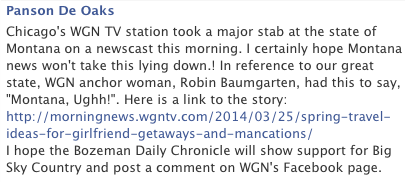 Before I responded to him, I clicked on the link to his Facebook profile, which was mostly private. However, on his "About" tab, one of the websites listed for him is:Â http://www.pawsup.com. A Google search for his name turns up a more specific connection. De Oaks is the managing director of The Resort at Paws Up, at least according to his LinkedIn profile.
When I noted to him via Facebook that we wouldn't be getting involved in his company's dispute with WGN over coverage of his resort, he called it an "attack by a news organization against the state of MT."
So a businessman felt snubbed because of an anchorwoman's mild distaste for non-urban outdoor activities. I informed him we'd not be getting involved and left it at that.
However, NBC Montana didn't leave it at that.
No, in an example of unsourced, un-bylined, click-bait journalism at its finest, KTVM posted a skeletal story about the "incident" with the non-news headline "Chicago anchor doesn't appear to be a fan of MT" and replete with a big Montana state flag image and "UGH" in all-caps with an exclamation point. There is no mention of the clear source of the story, De Oaks, who posted the same news tip to KTVM's Facebook page as he did to our page. He seems to have gotten a more more receptive response:

---
Update
There were some fun new developments in this case of click-baiting this morning. NBC Montana Today posted this message to its Facebook page: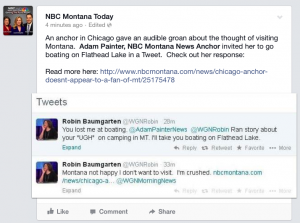 Yep, that's NBC Montana's morning show bragging about trying to bait anchor Robin Baumgarten into responding to the non-story the station had already run.
Here are the relevant tweets embedded, starting with Painter's post at 5:41 this morning:
@WGNRobin Ran story about your audible "UGH" from Monday interview segment about camping in MT. I'll take you boating on #FlatheadLake!

— Adam Painter (@AdamPainterNews) March 27, 2014
And Baumgarten's replies beginning six minutes later:
Montana not happy I don't want to visit. I'm crushed. http://t.co/UFoxx2KGWA @WGNMorningNews

— Robin Baumgarten (@WGNRobin) March 27, 2014
You lost me at boating. @AdamPainterNews @WGNRobin Ran story about your "UGH" on camping in MT. I'll take you boating on Flathead Lake.

— Robin Baumgarten (@WGNRobin) March 27, 2014
I suppose I could take this as a journalism lesson. If my story isn't generating enough buzz, try contacting the sources you didn't contact before you wrote the story and then ask them to react publicly to the story you already wrote about them. For bonus points, make sure to involve yourself personally somehow, like by inviting said source to an activity you already know they'll reject.