Frankly, I'm disappointed in myself this morning. At our newsroom meeting today, two of our reporters made some solid points about a story we ran on the front page of the paper — points we as editors should have brought up before the story ran.
The story is about an effort by a woman in Gallatin County named Averil Heath, who has signed on with a group calling itself the National Liberty Alliance. Heath and the NLA want to establish so-called "common law grand juries" in every county and state in the Union.
Heath plans to hold a vote to establish such a grand jury in Gallatin County during a meeting at the library in Bozeman on Jan. 11.
We placed this story on the front page, but I don't think we did enough homework on the NLA before publishing it. So I'm going to share some of my findings here on the blog.
What is a grand jury?
A grand jury is a jury of citizens called together to decide if there is enough evidence to bring forward a criminal charge. The document they return is called an indictment.
Traditionally, the body has been seen as a protection for citizens against unwarranted charges by the government.
The proceedings are secret. No judge is present, and the whole affair is led by the prosecutor. Defendants have no rights to present their cases and don't even need to be informed about the hearing at all.
Because the grand jury is not a court, some rules that apply in court do not apply. For example:
Some evidence gathered in violation of the Fourth, Fifth or Sixth amendments can be presented.
A person does not have the right to have an attorney present but can leave the room at any time to consult with an attorney.
The Grand Jury Clause of the Fifth Amendment applies only to federal felony charges. Some states do use grand juries, but there is no right to a grand jury hearing.
Critics have argued over the years that grand juries, rather than being a buffer between the government and the people, have become a rubber stamp for prosecution.
Averil Heath
According to the Bozeman Food Co-op's producer profiles page, Averil Heath owns Springhill Farms in Belgrade. She was a certified organic grower from 1990 until 2006.
Other online results list her name as being spelled "Averial," as does the phone book.
In 2000, Heath wrote a letter to the editor in the Chronicle demanding justice for people affected by asbestos in Libby.
She wrote another letter in 2001 protesting trade agreements like NAFTA, WTO and FTAA. She called such agreements an expansion of the "assault on our sovereignty." She wrote:
When the consent of the governed is bypassed, it is the usurpation of democracy. We cannot afford to be passive in the face of this assault. Some of our citizens from Bozeman have put their bodies on the line to challenge this tyranny.
Heath also provided a public comment to the Montana DNRC regarding a decision to allow Signal Peak Energy to expand coal mining operations. Heath's comment read:
Leasing coal mining rights for below market value] is an outrageous policy that is a slap in the face of all Montana citizens. Please stand up and show some backbone. Defend taxpayer-owned land in Montana from this sort of theft. I consider this a theft from all Montana citizens!
National Liberty Alliance


So far as I can discern from IRS and GuideStar searches, the National Liberty Alliance is not a registered nonprofit, despite its use of the .org domain for its website and its plea for donations.
The group reports on its website that it is 11 percent of the way toward an $8,000 goal to get a matching grant. There is no indication of where that grant will come from, and I can find no record of who might be funding the group.
Donors are asked to make their checks payable to "Trade Winds" at 3979 Albany Post Road, Hyde Park, NY. According to Google maps and street view, this is an empty lot. But we may not be able to trust that photo.
An internet search for Trade Winds in Hyde Park found a franchise location for printing company Minuteman Press, 4246 Albany Post Road in Hyde Park. This address appears to be a commercial strip mall according to Google.
Minuteman Press started in 1975, according to New York Secretary of State's records. It's CEO is listed as Robert Titus, and it's address is listed at 61 Executive Blvd., Farmingdale, NY. A Robert Titus of Huntington, N.Y., is listed with the FEC as having contributed $500 to Barack Obama's campaign in June 2012.
Apart from the coincidence in location, Minuteman and Titus do not appear to be connected to NLA.
The domain nationallibertyalliance.org was registered by a John Darash on April 20, 2013. The phone number listed appears to be a cellphone number in Hyde Park. Darash's address on the domain registry is listed as 600 Violet Ave. in Hyde Park.
According to county records, that's a 1.4-acre lot owned by a Carole A. Wexler. From aerial photos and Google street view, it appears to be a kind of strip mall.
The domain nationallibertyalliance.com, which redirects to the .org version, was registered a day earlier.
The group's website proclaims that "Only the people can save America! Will you?" That's beneath a Latin motto "Lex naturalis dei gratia" – translated: "the natural grace" – and a quote from Psalms about justice and righteousness.
The site also points out that simply registering for the site means "you are registering to become a juror." There are no uninvolved members, it seems.
The site uses quotations from the Magna Carta, William Pitt, Thomas Jefferson, John Adams, Ben Franklin and the Bible to make its case – which boils down mostly to the idea that there are tyrants out there impinging people's rights.
Specifically, the NLA cites a Supreme Court decision in which Justice Antonin Scalia "confirmed that the American grand jury is neither part of the judicial, executive nor the legislative branches of government, but instead belongs to the people."
U.S. vs. Williams
The 1992 case involved John Williams, who was accused of misrepresenting his character on financial statements. The prosecutor, though, didn't present the grand jury evidence showing that Williams was always truthful with his financial information, so Williams sought to overturn the indictment. The justices ruled 6–3 that it's up to the defendant to present his own evidence.
Scalia wrote in the majority decision:
Because the grand jury is an institution separate from the courts, over whose functioning the courts do not preside, we think it clear that, as a general matter at least, no such "supervisory" judicial authority exists, and that the disclosure rule applied here exceeded the Tenth Circuit's authority.
Basically, Scalia is saying that, because the grand jury is separate from the courts, courts have been reluctant to make rules regarding what sorts of things go on in grand juries.
He acknowledges that the grand jury is mentioned in the Bill of Rights and not the body of the Constitution and that it has not been "textually assigned, therefore, to any of the branches described in the first three Articles."
In fact the whole theory of its function is that it belongs to no branch of the institutional government, serving as a kind of buffer or referee between the Government and the people.

…

Although the grand jury normally operates, of course, in the courthouse and under judicial auspices, its institutional relationship with the judicial branch has traditionally been, so to speak, at arm's length.
The grand jury's ability to investigate criminal wrongdoing – or even the suspicion of criminal wrongdoing – is evidences its functional independence from the judicial branch, Scalia writes.
The Federal Rules of Criminal Procedure, published in 1946, make no reference to common law grand juries.
John Darash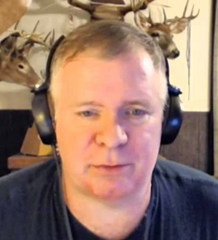 John Darash is listed as a member of the Oath Keepers of Columbia, Colo., whose site shows him to have joined Oct. 9, 2009, and puts his location as Hyde Park, N.Y. His bio there refers to the sovereignty of county sheriffs and the "NWO government takeover."
He was mentioned in a 2010 New York Times story as a member of the Dutchess County 9/12 Tea Party group and as a supporter of Republican gubernatorial candidate Carl P. Paladino.
In August 2013, after city officials in Clarkstown, N.Y., revoked the NLA's permit to protest at the town hall, Darash told the local paper:
Darash also explained the town attorney who allegedly revoked the permit, Amy Mele, may come before the common law grand jury herself.
"This is what common law is, and they just shut that down saying that we can't do this in the people's building," Darash was quoted as saying in the Rockland Times.
Mele told the newspaper the letter was send under the name "Rockland County Grand Jury" and not the group's actual name. The NLA was invited to reapply under its own name.
He told another newspaper in September 2013:
"The Constitution is a common-law document, as is the Declaration of Independence and the Magna Carta," said Darash, who lives in New York. "What is our heritage as Americans? It's our inalienable rights, and that brings you right back to common law. It's what our founding fathers died for."
Conclusion
The NLA appears to be a group with heavy right-wing, tea party leanings. It's success at convening these illegal common law grand juries has been nil.
NLA-affiliated groups have sought to form common law grand juries in Pennsylvania in November and December, Colorado in December and Florida this month.

So far, as reported by NLA's own website, no common law grand juries have been convened in the country, and that's probably good, because according to established law, they'd have no authority or legitimacy.