Sometime early this morning, a post appearing to be from a disgruntled social media marketer went public on [the state of Montana's tourism page on Facebook](https://www.facebook.com/visitmontana).
Around 2:30 or 3:30 this morning, the following message went out to the page's roughly 150,000 followers:
>F this job. I just want to live in Whitefish with my future husband. Leaving Bozeman for good tomorrow […] Thanks for the good times MercuryCSC!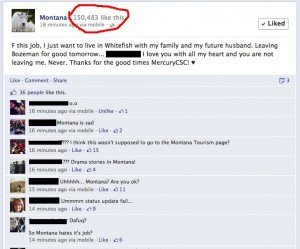 MercuryCSC is an advertising agency based in Bozeman and San Francisco. Outside magazine this year [named the company one of the 30 best places to work](http://www.outsideonline.com/outdoor-adventure/best-jobs/The-30-Best-Places-to-Work-Mercury-CSC-20120726.html).
The company lists its work with the state's tourism office as [one of its case studies](http://www.mercurycsc.com/case-studies/montana-office-tourism/). "Mercury's work for the Montana Office of Tourism has been widely recognized as some of the most effective and innovative tourism marketing in the nation," the Web page says. There's [a video touting the success of the campaign](http://vimeo.com/23155011) on Vimeo.
The posting has since been deleted, to the chagrin of entertained followers, if the "posts by others" on the Facebook page are to be believed.
The posting does live on [in screenshots](https://twitter.com/bgriffin04/status/277099337639665664/photo/1) and on [Reddit](http://www.reddit.com/r/funny/comments/14fs03/employee_accidentally_posts_to_the_montana/).
Sarah Lawlor, spokeswoman for the tourism office, said the state office works closely with Mercury in its social media strategy, so Mercury employees do have administrative rights to the Facebook page.
"They usually run everything they will post through us first," Lawlor said.
"It was a personal error by this person, and once they realized this error, we removed the post," she said. "Obviously, it wasn't content intended for our Facebook audience."
The Office of Tourism will post an explantory statement to its page today.
Lawlor said it was too soon to tell whether the incident would affect the office's relationship with Mercury.
"We're going to have to have that discussion internally," she said. "We haven't had a chance to do that yet, but there will certainly be some review."
MacLaren Latta at MercuryCSC said she could not discuss the matter since was a personnel issue. She also could not say whether the person in question was still with the company.
**Update:** MercuryCSC has released a statement about the incident, noting that it is no longer doing social media work for the state's tourism office.
>At approximately 2:15 a.m. on Friday, December 7, 2012, an employee of MercuryCSC made a mistake and posted unprofessional personal comments as "Montana" to the Montana Facebook page.
>
>As soon as the post was discovered, it was removed. However, images of the post were distributed throughout social media and news channels causing confusion and speculation about the source and the nature of the post.
>
>MercuryCSC no longer has administrative rights to the Montana Facebook page, and MercuryCSC is no longer performing social media work for the Montana Office of Tourism.
>
>MercuryCSC accepts responsibility for and is actively working with the Montana Office of Tourism to address the situation.
>
>MercuryCSC regrets this chain of events. We apologize to our client and the state of Montana for this issue.
>
>As it is a personnel matter, we are not able to make additional comments.