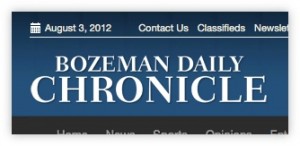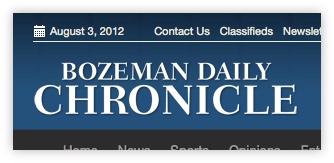 It's a question our publisher settled for the Chronicle when she asked me Wednesday to return the date to the top of our site. I had removed it during the slight redesign we did back in June to launch our metered paywall. In its place, I had put links that our readers now use, once logged in, to take themselves to our e-edition, the e-Chronicle.
I protested slightly the idea of putting the date at the top of our site, but I bow of course to the publisher's decision. Still, I think the question can be asked here on the blog philosophically: Why would we need the date up there?
First, some context. The Chronicle, as faithful readers will know, is part of the Big Sky Publishing Group, which comprises us, the Belgrade News, the West Yellowstone News and the Lonepeak Lookout. Big Sky Publishing is part of [Pioneer Newspapers](http://www.pioneernewspapers.com/), which owns quite a few papers around the Northwest.
I checked the websites of our sister papers to see if they had dates at the top of their sites:
* [Belgrade News](http://www.belgrade-news.com/) – date
* [Lone Peak Lookout](http://www.lonepeaklookout.com/) – date
* [West Yellowstone News](http://www.westyellowstonenews.com/) – date
* [Idaho Press Tribune](http://www.idahopress.com/) – no date
* [Idaho State Journal](http://www.idahostatejournal.com/) – date
* [Skagit Valley Herald](http://www.goskagit.com/) – no date
* [Herald Journal](http://news.hjnews.com/) – no date
* [Herald and News](http://www.heraldandnews.com/) – date
* [Standard Journal](http://www.uvsj.com/) – no date
* [Ellensburg Daily Record](http://www.dailyrecordnews.com/) – no date
* [Teton Valley News](http://www.tetonvalleynews.net/) – no date
That's a pretty fair split. Out of the 11 papers I looked at in our chain, five have dates at the top of them and six don't.
For the record, the New York Times, Huffington Post, Washington Post, Boston Globe, Los Angeles Times, Minnesota Star-Tribune, Seattle PI and Seattle Times have dates.
The Chicago Tribune, Chicago Sun-Times, Dallas Morning News, New Orleans Times-Picayune, Denver Post and CNN do not have a date.
That's just a few names around the country I could think up on the spot. I'm not conducting a rigorous survey here.
So…
###Why have a date atop the site?
Newspapers always have dates at the top. It's part of what we do to let readers know that they have the most recent news in their hands. It's what we do to refer to individual issues of the paper — making it easier to refer to stories in them.
So on one hand, it's a tradition carried over from print.
Another possible benefit of having the date atop sites is to make it easier to determine when a printout of the site was made. I can see this being of use with advertisers, who sometimes need visual proof that their ads ran online. A printout of the site showing the date of that day would be useful for that.
Thirdly, having the date at the top of every page on the site would give readers information at a glance if they are on our site. What's the date today? Oh, there is it!
###Why not?
My biggest argument against putting the date at the top is that the date doesn't reflect the "edition" of the Website. The site currently tells me that it is Aug. 3, 2012, but that doesn't mean it's the "Aug. 3, 2012" edition of the site. We don't refer back to a specific day's edition of the site because each article has it's own publication date and time, as well as update dates and times (if appropriate). The date atop the site is merely a query to the server, asking it to echo the current month, day and year, regardless of context.
Plus, people's computers, smartphones, desk calendars and innumerable other devices already tell them what day it is. So why do they need to get that information from us?
###Make it useful
We're going to have a date atop our site. That much is clear, and I'm OK with that. Really. However, I am going to work today to make that date slightly more useful by adding a "last updated" date and time next to it.
Unfortunately, our software doesn't really make this easy, so it'll take some figuring to make it work. However, I think it'll be worth it.
I welcome your thoughts on the matter. Do newspaper websites need a date at the top? Let me know in the comments.