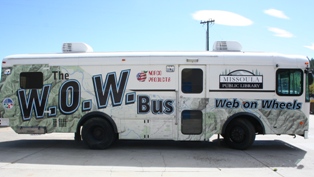 Where I come from, WoW stands for World of Warcraft, but apparently the good people of Missoula County now say it stands for Web on Wheels, a bus loaded up with Web-linked computers that travels the rural parts of the county.
The bus, a new branch of the Missoula Public Library, will be in Bozeman tomorrow, parked at the Bozeman Public Library and open to the public from noon to 5 p.m. during an annual training conference for the state's librarians.
"We're bringing the WoW to Bozeman so that our peers across the state can see one of the innovative ways that we're trying to provide library patrons with the services they want and need," Missoula Public Library Director Honore Bray said in a written statement.
The WoW has eight computer workstations, including one that's handicapped-accessible. It's purpose, according to an announcement sent by the Montana State Library, is to bring "vital Internet resources" — such as the ability to look for jobs, complete homework or enroll for public benefits — to communities that don't have easy access to broadband.
Among its scheduled stops are Bonner, Clinton, Clearwater Junction, DeSmet, Greenough, Lolo Hot Springs and Potomac.
Additionally, the bus can do technology training and workshops, deliver library hold items and offer passport and notary services. It is staffed by reference librarian and circulation clerk.
Introduced to the public in Missoula on Sept. 7, the bus is funded by a $157,860 stimulus grant administered by the Montana State Library. The money was used to buy and refit the bus, according to a posting on a state education website. It's estimated that running the bus — staffing, fuel, insurance and such — will cost $142,800 over two years.
Read an August preview of the bus from the Missoulian.