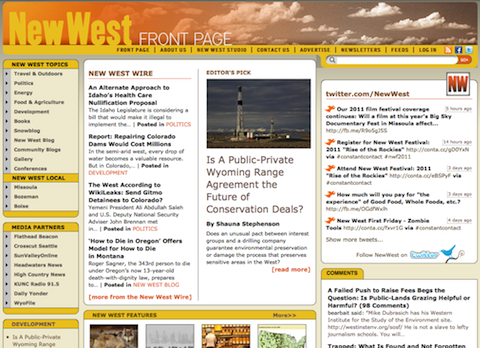 New West, a news website with staff reporters in cities across the region, went dark this month, its homepage replaced with a message from its owners saying that the site will be back up after the organization moves to a new headquarters and installs new site software.
New West's Twitter account was last updated Aug. 31. It gave no information about the hiatus nor any hint that a hiatus was coming.
New West Publishing was based in Missoula. Until January 2010, it was headed by Jonathan Weber, who was, until very recently, editor in chief of the Bay Citizen, a nonprofit news organization in San Francisco. He has just been named Reuters' West Coast bureau chief, the SF Appeal reports.
According to the organization's entry in the Nieman Journalism Lab's Encyclo project, New West's most recent publisher and CEO was Laura Ingham. In a March 2011 listing on the Columbia Journalism Review's News Frontier Database, which I was able to access directly through Google but not through the CJR website, Ingham called New West "like Slate for the Rocky Mountains."
New owners stepped in last year, CJR reports, and bought up the branch, which Ingham said was "disbanding." (Note: Despite plenty of searches this morning, I cannot divine who those new owners are.)
"I really consider us, even with a six-year legacy, as a new project that launched like a new company in November of 2010," Ingham told CJR.
The same CJR article says New West would migrate from Expression Engine to WordPress in 2011, which is supported by the fact that beta.newwest.net, a vanilla WordPress installation, is still active, despite the general shutdown of the rest of New West's site. Of course, this could just be an oversight on the part of the new owners. Or, it might have been a stalled project.
Some reports say that New West received as many as 100,000 pageviews a month. I doubt they'll keep their Google rankings long with every one of their stories redirecting to a static landing page.