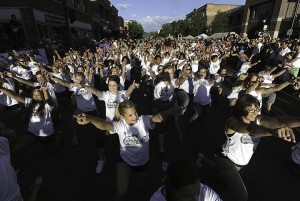 Well, it wasn't exactly a surprise to the people who were involved, but it probably was to the hundreds gathered Thursday night for Music on Main in downtown Bozeman.
A flash mob comprising about 100 people began a choreographed dance on cue just before the first band at the weekly summertime concert. The dancers grooved to a remix of Adele's "Rolling in the Deep."
The Chronicle knew about the mob ahead of time, thanks to reporter Rachel Hergett, who took part. We had a photographer there, as you can see from the attached photo, and we have a video camera on site, as you can see from the embed below.
Originally, we had planned a story to accompany the mob, a first-person write-up from Hergett to be published in today's paper. However, an email snafu and misunderstanding kept the narrative out of the paper today. We hope to get it published somehow and somewhen, but for now, enjoy the video.
Oh, and if you're planning any other flash mobs in Bozeman in the near future, please be sure to let you local newspaper know!