Barnes & Noble has announced a new version of its Nook e-reader device today, featuring a black and white touch screen and a price tag of only $139, the Associated Press reports.
The new Nook's battery can last up to two months, the company's CEO William Lynch said during the announcement. It has a 6-inch screen, similar to the current model Kindle.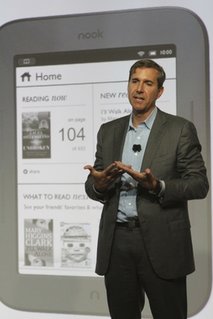 The new Nook, called the Nook Simple Touch Reader, adds a layer of social media functionality, allowing readers to trade recommendations with their online friends, including their Facebook connections.
The Nook is available for pre-order and will ship in time for Father's Day, Lynch said.
All those details aside, Barnes & Noble is making it pretty clear that it wants to compete in the world of electronic books, especially since Lynch told his audience at the announcement that his company has captured a quarter of the e-book market.
I find this new corporate focus on e-books somewhat odd, considering that e-books, in one format or another and on one device or another, have been around since the 1990s. (I had a friend back then who would read them on his Palm Pilot — after downloading the entire Project Gutenberg collection from Bit Torrent.)
Most of the excuses for disliking reading e-books are gone now, and the rise in popularity of smartphones and tablet-format computers have put screens in our pockets and purses. Resolution has nearly caught up with paper too — at the very least, author Annie Proulx's excuse about not wanting to read on "twitchy little screens" is no longer valid.
Still, people ache for the printed page. I can understand. I worked in a library all throughout college. I had professors who professed their love for the smell of the (amazingly acidic) dust (and mold) in the stacks. They found it intoxicating — which I believe might be literally true.
Which side are you on? Are you a lover of the printed page, or are you a strict electronic reader? Does it matter to you which media you use to read?
Related articles