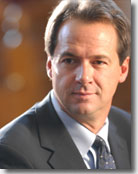 A spokesman for Montana Attorney General Steve Bullock has purchased www.bullockforgovernor.com, further evidence that Bullock may run for governor in 2012.
KTVQ reports that the domain is registered to Bullock's spokesman, Kevin O'Brien through the registrar GoDaddy.com.
In a statement sent to KTVQ, O'Brien said it is no secret that the attorney general has been encouraged to run for governor and that "purchasing domain names is simply a smart move given all the hi-jinks and dirty campaigning out there."
Update: This article from the New York Times, originally posted by John S. Adams on Twitter, explains why it might be a good idea for a politician to get out ahead of domain squatters.