Bloggers Jay Stevens and Matt Singer at the Montana political blog Left in the West are hitting the bricks. Stevens announced his departure in a Nov. 3 post to the blog, and Singer gave his notice a day later.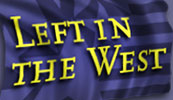 Stevens wrote in his post that blogging has been a thrill, but he needs a break from the daily grind. Singer says he's taking a job in Oregon and won't have time to keep up with Montana politics any longer.
The Missoula Independent wrote Nov. 4 that it was sad to see Singer and Stevens go. The paper profiled the two bloggers — among many other Montana political bloggers — back in 2006.
It looked for a few days like Left might head to the big blogosphere in the sky, but on Nov. 10, Rob Kailey posted to the site that he has been given admin privileges and that the blog will continue under his guidance. Kailey also writes at A Chicken is not Pillage.
The Independent, in its above-linked profile of Montana political bloggers, called Kailey, of Bozeman, "possibly the most rabidly partisan liberal blogger in the state." The Indy article goes on:
He's not above name calling or profanity, and he uses both on his blog and in the comments sections of other blogs on a regular basis.

And he makes no apologies.
And Kailey was off and running on Thursday on Left, slamming reporter Lindsay Scheetz for "criminally bad" reporting (Google cache link) on the ACLU's suit against the state of Montana.
The beat goes on.