Want to practice for the state of Montana's driving test on your iPhone, iPod Touch or iPad?
Montana Attorney General Steve Bullock today announced an official app that lets the owners of the above-mentioned devices take practice driver's ed exams on their mobile devices.
The app, creatively titled "MT.gov Driver Test," has been available for free in Apple's App Store since Monday. It is available in both iPhone and iPad formats.
The app contains a selection of 40 questions borrowed from the state's official practice exams. It takes 15 questions at a time and presents users with a multiple-choice test, then records your high scores.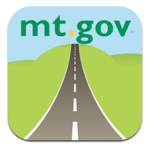 In a written statement, Bullock said: "Most new drivers are tech-savvy young people, and that's exactly who we had in mind when we developed this mobile application. This is a great example of how we're using technology to make our roads safer."
A spokesman for Bullock's office, Kevin O'Brien, said the driving test app is the first mobile app created by a state government agency.
"I think that in the near future, you'll see our office and all of government moving toward using technology in any way they can to make services more available," O'Brien said.
The app was developed by Montana Interactive, the company that has provided e-government services for Montana since 2001.
Montana Interactive, based in Helena, is itself part of a larger company called NIC USA, based in Kansas, which provides e-government services for 23 states, including Colorado, Hawaii, Indiana, Maine and Texas.
Sandi Miller, the general manager of Montana Interactive, said the app was paid for through the fees the state's website collects for various services, like ordering copies of driving records. In other words, Miller said the did not cost taxpayers a dime.
The "self-funded" model pays for all of Montana Interactive's operations, she said.
Miller said the state government is looking to expand onto other mobile app platforms, such as the Android operating system, which runs on smart phones commonly available in Montana. (The iPhone is not "commonly" available in Montana so far.)
"They are looking forward to doing some more mobile applications on diverse platforms," Miller said. Other interested agencies include the state lottery, she said.
Oh, and by the way, you will, of course, note that I purposely avoided the hackneyed "There's an app for that" lede that will surely accompany many version of this story tomorrow. You're welcome.