I've been trolling our local Craigslist postings lately, looking for story ideas for the Backroads feature that runs on Mondays in the Chronicle.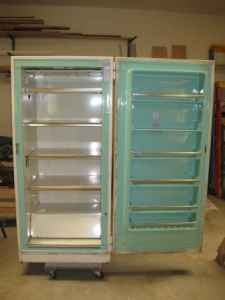 In case you didn't know it, classified ads are a surprisingly good source of ideas for quirky feature stories. People will post all sorts of weird stuff to the classifieds, especially on Craigslist, where the ads are free — much to the newspaper industry's consternation.
I came across this ad this morning. While it won't make a Backroads story, I thought it was worth sharing. Who knows? Maybe this post will help this old United Harvest Queen find a worthy home.
The posting:
United Harvest Queen upright freezer. 18 cubic ft. Circa ? Works surprisingly well even with the bullet holes. First come first serve. Bring help, this one is HEAVY.
Better strike while the iron is hot on this one.
Oh, and if you have any ideas for quirky, entertaining or off-the-beaten-path stories that would fit with the general theme of the Backroads feature, please let me know. You can reach me here in the comments, on Twitter, via e-mail or by phone at 406-624-9050.