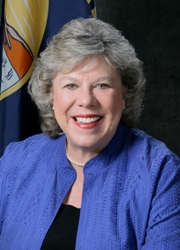 As the June 8 primary election approaches, Montana's secretary of state has started a Twitter account to help quickly get election information to the public.
"In my training and my life, I'm a school librarian," Secretary of State Linda McCulloch said Thursday. "So getting information to our customers is of paramount importance to us."
McCulloch hopes the Twitter account, @SOSMcCulloch, will be an avenue for all sorts of election information that doesn't quite warrant a full press release or that could be sent out multiple times a day, such as activities going on around the state, locations of polling places and voter turnout numbers.
In fact, about the only information you won't get about the election from McCulloch's Twitter feed is election results, explained her communications director, Terri Knapp. That's because it takes a while to come out with official results. Unofficial results will still be published on the secretary of state's website, Knapp said.
What's more: The majority of the Twitter posting duties will fall on McCulloch herself.
"I've done websites and developed my own websites at my last two agencies," she said, explaining that she has the Twitter program Tweetdeck open on a monitor most of the day. "I'm new to twittering, but I've been doing texting for a long time."
McCulloch wasn't sure whether she would use her Twitter account to converse with other Twitter users. That will depend on how much time she has to spend on Twitter.
"I still have an election to run," she said.
McCulloch acknowledged that Montana doesn't have a huge number of Twitter users, but she does think that there are enough users out there to justify spending her time on the service.
"In this day and age, we have to reach out to as many customers and users as we can in any way possible," she said. "Plus, this is a way that obviously we would catch more young voters, and we want to make sure we have all means available to voters."
McCulloch said she plans to maintain the account even after the primary is over.