One of the Chronicle's worthy competitors, Dan Boyce over at KBZK-TV, keeps a blog, and on this blog he confessed recently to a bit of a problem: He's amassing quite a collection of the little blue rubber bands that hold together his copy of the Daily Chronicle.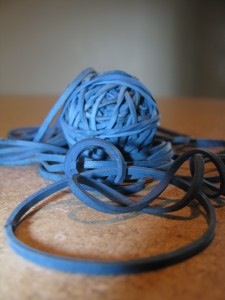 First of all, thanks for subscribing, Dan.
Secondly, it's a good post and is worth a look. Especially the part where he imagines that he is floating around the planet, handing out rubber bands to the cheering masses.
If you, too, are buried in the Chronicle's little rubber bands, don't worry. Circulation director Bill Fredericks tells me that you can always return them to the Chronicle to be reused or leave them in a baggie for your newspaper carrier to pick up.