For my latest Backroads article, I visited for about an hour with World War II veteran submariner Richard Clower at the retirement community where he lives in Bozeman.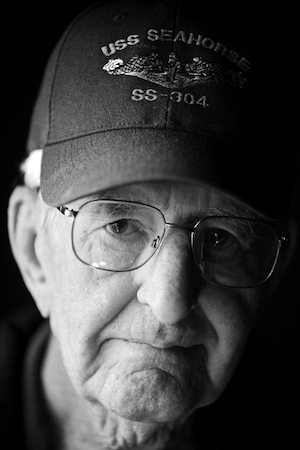 Needless to say, the story that appeared in Monday's Chronicle was not a transcript of an hour's worth of conversation. Plenty of material got left in my notebook, including one story I thought was worth sharing.
Clower told me that at one point during the war, his sub, the USS Seahorse, was sent out on lifeboat duty — fishing downed aviators out of the water and giving them a ride back to port, presumably so they could get another plane and another crack at the Japanese.
Once, the Seahorse saw a Japanese plane go down, so the crew moved in to rescue its surviving crew members, Clower said.
Only three airmen survived the crash. Of them, the pilot drowned himself rather than be captured. Clower figures this was because the Japanese soldiers were told that awful things would be done to them if they were to become prisoners of the Americans.
The second crewman, the copilot, was badly injured in the crash and died shortly after being hauled aboard the Seahorse.
The third survivor, plane's radio man, was kept aboard the sub as a prisoner.
Now, the Seahorse was on assignment. She couldn't just run back to a friendly port to drop off the prisoner, so the Japanese airman had to stay on board.
Eventually, they gave the Japanese man the run of the ship, since "he was mostly harmless," Clower said. He wound up spending quite a bit of time in the radio room with Clower, who was a radio operator aboard the Seahorse.
Over the 40 days the prisoner spent on the sub, he learned enough English to get by and managed to make a few friends among the crew.
However, near the end of the sub's assignment, some joker decided it would be fun to play a little prank on the prisoner, Clower said.
The guy told the Japanese man that when they reached port, Marines would come to take him away and put a bag over his head. The reason for the bag, the prankster said, was because the Marines were going to cut off the Japanese prisoner's head, and they didn't want to get blood everywhere.
The Japanese man understood enough English to be scared out of his wits, Clower said, especially when Marines did come to the boat for him and did put a bag over his head.
Of course, nobody cut his head off. He eventually returned to Japan. Some of the Seahorse crewmen kept in touch with him after the war.
Still, I have to wonder: Why do some guys have to be mean like that?