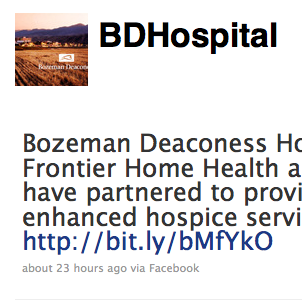 Bozeman Deaconess Hospital has jumped onto the social media bandwagon, chiming in with a Twitter account just a few days ago.
The hospital's marketing and communications manager, Connie Martin, said they started quietly using social media sites back in November 2009 to spread word about hospital events and health information.
"By the beginning of the year, we started getting a lot of fans, and it was fun," Martin said. The hospital's Facebook fan page has more than 500 followers.
The rationale is that the hospital wanted to be where the people are, Martin said. These days, the people are on Facebook and, to a lesser extent, Twitter.
"There are so many people using social media now, and it's just a way of communicating with them, at least getting the information out there that they want to know," she said.